---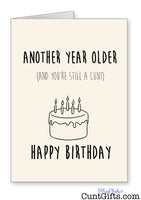 "Another Year Older and You're Still a Cunt" - 

Birthday Card 
Know a cunt and it's their Birthday? This must be the solution to the question of "What birthday card to get them?".
The full message reads: "Another year older - and you're still a cunt. Happy Birthday"
Blank inside
350gsm A6 card that is cellophane wrapped with an envelope included.
Made in England
The "Another year older" design is also available on a matching Birthday Mug. Click here to see it.
Choose from over 100 designs of cunt cards. We have the world's best selection here at CuntGifts.com 
We have super fast delivery and can send your order anywhere on the planet. To learn more about delivery and our 100% money-back guarantee, click the icons below.
DESIGN CODE: ANOT anot