---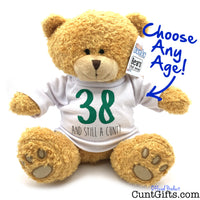 "ANY AGE and still a Cunt!"- Teddy Bear
If you know someone who is still a cunt despite the years progressing, this personalised teddy bear makes for the perfect little gift to remind them! 
SIMPLY ENTER THE AGE YOU WOULD LIKE ABOVE
IT WILL BE READY TO DISPATCH IN JUST 1 WORKING DAY!
It's a very funny gift, It's guaranteed to make them laugh, whether it's an 18th 20th 21st 30th 40th 50th or 60th birthday, this teddy bear is perfect. It even works if it's a random birthday like their 36th, it's so versatile, add any age you like!
Another classic design in the family of "The Little Cunts - Bears that swear". Check out the full range by clicking below.
Total length: 28cm/11 inches (approx)

Machine-embroidered eyes

Soft plush fur

Suitable for age 18+
We are proud to be world leaders with our range of birthday cunt bears, cards, mugs and gifts. Choose from dozens of designs!
We have super fast delivery and can send your order anywhere on the planet. To learn more about delivery and our 100% money-back guarantee, click the icons below.
DESIGN CODE: STILL still