---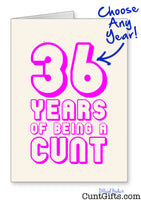 "ANY Years of Being a Cunt" - Pink Personalised Birthday Card
You can personalise this birthday card by changing the age!
SIMPLY ENTER THE AGE YOU WOULD LIKE ABOVE
IT WILL BE READY TO DISPATCH IN JUST 1 WORKING DAY!
It is bold and outrageous, so if you need an offensive birthday card look no further than this! It's guaranteed to make them laugh, whether it's an 18th 20th 21st 30th 40th 50th or 60th birthday, this card is perfect. It even works if it's a random birthday like their 36th, it's so versatile, add any age you like!
- Blank inside
- 350gsm A6 card that is cellophane wrapped with an envelope included.
- Made in England
If you want to see more birthday and greeting cards you can personalise, click here to view the Personalised Cunt Cards collection.
We have the world's best selection here at CuntGifts.com, see more by pressing below...
We have super fast delivery and can send your order anywhere on the planet. To learn more about delivery and our 100% money-back guarantee, click the icons below.
DESIGN CODE: YEARP yearp