---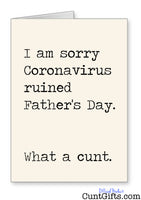 "I am sorry Coronavirus ruined Father's Day - What a cunt" - Father's Day Card
Is your special day with your dad ruined because of the Coronavirus pandemic lockdown and social distancing?

Well is nothing else, you might be able to give them a laugh by getting them this card. It really does say it all.
- Blank inside
- 350gsm A6 card that is cellophane wrapped with an envelope included.
- Made in England, UK
If you wanted to get a virus themed gift to go with this card, then check out our Coronavirus COVID-19 Cards & Gifts.
Do you need a card with the word cunt on it for another occasion? Then it's your lucky day! We are the world's number one cunt card and gift brand. We have tons of designs available.  Browse our catalogue of designs below. 
We have super fast delivery and can send your order anywhere on the planet. To learn more about delivery and our 100% money-back guarantee, click the icons below.
DESIGN CODE: CORD cord