---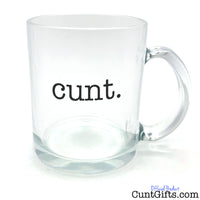 "cunt."
- Half Pint Tankard Glass
It's a drinking glass, and it says the word "cunt." on it. Design simplicity at its best!
The perfect gift to give to your best mate! They will remember how much you think of them every time they have a drink in this "cunt." glass!
It holds 312ml, so is ideal to have a nice cold half pint of beer with room for a frothy head on top. 
- This 11oz cunt glass is both dishwasher and microwave safe.  
- Supplied in a box.
- Made in England, UK 
The "cunt." gift collection has plenty of other gifts featuring this design. To browse more glass designs check out the full collection HERE.
We have the world's biggest variety of cunt gifts, just click below to continue your journey to discover the perfect one.
With super fast delivery we can send your order anywhere on the planet. To learn more about delivery and our 100% money-back guarantee, click the icons below.

DESIGN CODE: TDOT tdot