---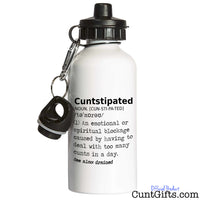 "Cuntstipated" - Water Bottle
If you are wondering what being "Cuntstipated" refers to, the dictionary definition is printed on this cunt water bottle!
Simply put, being cuntstipated is an emotional or spiritual blockage caused by having to deal with too many cunts in a day, a problem many people suffer from!
Whether it is used when you are exercising, walking the dog, or just sitting at your desk at work, you can always stay hydrated in style with this hilarious water bottle!
FREE UK DELIVERY
Supplied in a card box. 
500ml Capacity.
Supplied with two lids 1 x Screw Top 1 x Flip Top.
Features handy clip-on carabiner clip.
Made in the UK
If you need a gift for a cunt, or someone who just loves the word, then choose from the world's biggest selection of designs!
We stock designs suitable for any occasion, continue browsing by pressing below:
We have super fast delivery and can send your order anywhere on the planet. To learn more about delivery and our 100% money-back guarantee, click the icons below.
DESIGN CODE: STIP stip