---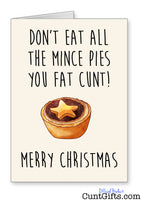 "Don't Eat All The Mince Pies You Fat Cunt" - Christmas Card
If you need an offensive but full-on funny Christmas card for someone of a certain size, this card is the answer! 
There is nothing wrong with a bit of friendly advice this holiday season, and this card does that for sure with its "Don't Eat All The Mince Pies You Fat Cunt" design.
Blank inside
350gsm A6 card that is cellophane wrapped with an envelope included.
Made in the UK
We also stock multi-packs of Christmas cards - Click here to see them
We have an ever-expanding range of cunt Christmas presents and cards here at cuntgifts.com. You can discover more by using the link below.
As the world's number one retailer of c-word merch, we stock hundreds of designs for all occasions throughout the year. You can see more below.
We have super fast delivery and can send your order anywhere on the planet. To learn more about delivery and our 100% money-back guarantee, click the icons below.
Design Code: MINC minc