---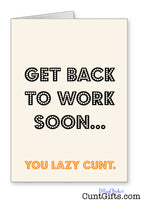 "Get Back to Work Soon You Lazy Cunt" - Get Well Soon Card
If you have a work colleague who is off sick and you want to wish them well, this get well soon card is guaranteed to get a laugh!
This A6 greetings card reads:
"Get Back to Work Soon You Lazy Cunt"
Is a work colleague away from the office and the rest of the team is taking up the slack for them? Let the lazy cunt know how you feel!
- Blank inside
- 350gsm A6 card that is cellophane wrapped with an envelope included.
- Made in England
If you need a card or gift that features the word cunt, you can choose from the biggest range online here at CuntGifts.com
Click below to see lots of other hilarious designs for all occasions.
We have super fast delivery and can send your order anywhere on the planet. To learn more about delivery and our 100% money-back guarantee, click the icons below.
DESIGN CODE: BACK back