---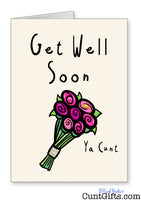 "Get Well Soon, Ya Cunt" - Card
Is a friend or work colleague poorly? Well, making them laugh is one small step towards their recovery, and this card is sure to do that.
At first look it looks like a standard "get well soon" card, until you spot the "Ya Cunt" printed further down.
When they see it the recipient is guaranteed to laugh at this get well soon card!
- Blank inside
- 350gsm A6 card that is cellophane wrapped with an envelope included.
- Made in England
You can also get a teddy bear to match this get well soon card or choose from our other teddy bears, click below to check it out...
If you need a card or gift that features the word cunt, you can choose from the biggest range online here at CuntGifts.com
Click below to see lots of other hilarious designs for all occasions.
We have super fast delivery and can send your order anywhere on the planet. To learn more about delivery and our 100% money-back guarantee, click the icons below.
DESIGN CODE: SOON soon