---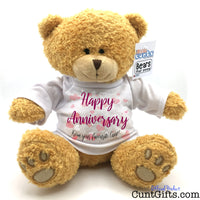 "Happy Anniversary from your favourite cunt!" - Teddy Bear
This teddy bear makes for a hilarious gift for your partner to celebrate the time you've been together.
It's the perfect gift to remind someone that they are in love with a cunt!
He is a proud member of "The Little Cunts - The Bears That Swear" family. Click below to see them all.
Total length: 28cm/11 inches (approx)

Machine-embroidered eyes

Soft plush fur

Suitable for age 18+
As the largest and most loved cunt gifts emporium on the planet, we have hundreds of other designs available, Click below to see them...
We have super fast delivery and can send your order anywhere in the world. To learn more about delivery and our 100% money-back guarantee, click the icons below.
DESIGN CODE: ANNIVFAV annivfav