---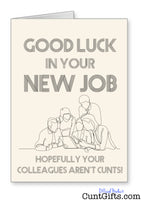 "Hopefully your colleagues aren't cunts" - Leaving Card
The full message on this leaving card reads: "Good luck in your new job, hopefully your colleagues aren't cunts"
A brilliant leaving card for that work colleague who is moving on.
If hoping their colleagues aren't cunts seems a bit kind, you can always go for the harsher alternate version that hopes they are cunts! You can check this design out by clicking here.
- Blank inside
- 350gsm A6 card that is cellophane wrapped with an envelope included.
- Made in England
We have a choice of cunt leaving cards, to find the perfect one you can check out the range here.
Choose from loads of designs of cunt card. We have the world's best selection here at CuntGifts.com 
We have super fast delivery and can send your order anywhere on the planet. To learn more about delivery and our 100% money-back guarantee, click the icons below.
DESIGN CODE: NWC1 nwc1 NWC2 nwc2