---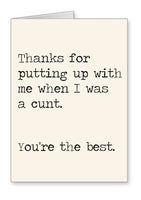 "I was a cunt - You're the best" - Greeting Card 
If you behaved like a cunt, but someone close to you put up with your behaviour, then there this card is the ideal way to show your appreciation!
Whether you use it to say sorry, or maybe to say thanks, this cunt card is sure to get a laugh.
The full design reads: "Thanks for putting up with me when I was
a cunt. You're the best."
- Blank inside
- 350gsm A6 card that is cellophane wrapped with an envelope included.
- Made in the UK
- FREE UK DELIVERY
We have a range of other cards if you need to apologise, check out the full collection of Sorry Cunt Cards. We are the world's number one cunt card and gift brand. We have tons of designs available.  
Check out our full catalogue of designs below.
We have super fast delivery and can send your order anywhere on the planet. To learn more about delivery and our 100% money-back guarantee, click the icons below.
DESIGN CODE: YTBE ytbe