---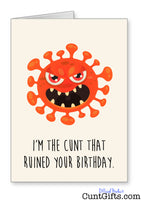 "I'm the cunt that ruined your Birthday" - Coronavirus Birthday Card
Do you have a friend or family member who has a birthday coming up that will be ruined because of the Coronavirus pandemic?
Well is nothing else, you might be able to give them a laugh by getting them this card!? 
- Blank inside
- 350gsm A6 card that is cellophane wrapped with an envelope included.
- Made in England, UK
We are proud to be world leaders with our range of birthday cunt cards and gifts. Choose from dozens of designs!
We have super fast delivery and can send your order anywhere on the planet. To learn more about delivery and our 100% money-back guarantee, click the icons below.
DESIGN CODE: RUIN ruin