---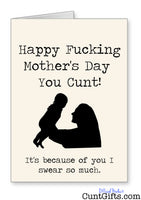 "Happy Fucking Mothers Day - It's Because of You I Swear So Much" - Card
Does your Mum love to swear? Has she taught you everything you know?

Mother's Day represents a great opportunity to remind her of that with this truly hilarious card!

If you need a cheeky Mother's Day card, this design is perfect. Forget about a sentimental card, give her a laugh instead!
- Blank inside
- 350gsm A6 card that is cellophane wrapped with an envelope included.
- Made in England, UK
If you are looking for a card or gift with the word cunt on it for another occasion, it's your lucky day! We have loads of 'em, we stock cards for all occasions and events...
Check out the full catalogue of our designs below.
We have super fast delivery and can send your order anywhere on the planet. To learn more about delivery and our 100% money-back guarantee, click the icons below.
DESIGN CODE: MHSFW mhsfw