---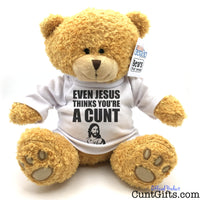 "Even Jesus thinks you're a cunt" - Teddy Bear
This bear takes it to another level and makes "Ted" look tame. The t-shirt he wears says: "Even Jesus Thinks You're A Cunt!"
Another proud member of "The Little Cunts" - The Bears That Swear. Click below to see the whole family.
Total length: 28cm/11 inches (approx)

Machine-embroidered eyes

Soft plush fur

Suitable for age 18+
Check out the rest of our tongue and cheek religion section by clicking here.
Want to see more? We have plenty more designs for your amusement, check out the full collection below...
We have super fast delivery and can send your order anywhere on the planet. To learn more about delivery and our 100% money-back guarantee, click the icons below.
DESIGN CODE: JESU jesu 
JESB jesb
JESE jese 
JESC jesc