---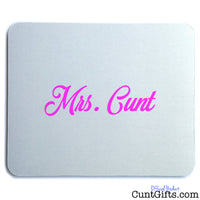 "Mrs. Cunt" - Mouse Mat
This is a mouse mat.
It says "Mrs. Cunt" on it.
If you are reading this, then you already know the woman this is perfect for!
Everyone has at least one friend this mouse mat describes this perfectly...
- Measures 22cm x 18cm.
- Card and cellophane gift packaging.
- Professionally produced at our Sussex workshop in England, UK. 
 The cunt gift range we stock is unrivalled. We are the world's number one.
We have a design for every occasion, check out our full catalogue of designs below.
We have super fast delivery and can send your order anywhere on the planet. To learn more about delivery and our 100% money-back guarantee, click the icons below.
DESIGN CODE: MRSC mrsc