---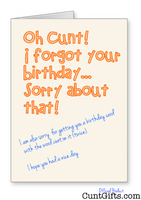 "Oh Cunt" - Belated Birthday Card
If you missed someone's birthday, and a laugh will fix things, this is the card to do it!
The full message reads:  
"Oh Cunt. I forgot your birthday... sorry about that! I am also sorry for getting you a birthday card with the word cunt on it (twice). I hope you had a nice day."
- Blank inside
- 350gsm A6 card that is cellophane wrapped with an envelope included.
- Made in England
As you missed their special day, why not make it up to them properly and get them a gift to go with the card? We are the world's number one supplier of cunt gifts. Click below to see the range.
We have super fast delivery and can send your order anywhere on the planet. To learn more about delivery and our 100% money-back guarantee, click the icons below. 
DESIGN CODE: FORG forg