---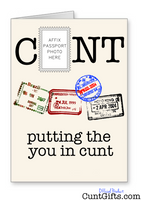 Greeting Card with "Putting the you in Cunt" design.
This card is suitable for any cunt, anytime.
No special Birthday wishes, just a flat out hilarious insult.
If you want it to send it as a birthday card, just click here to see the birthday version
- Blank inside
- 350gsm A6 card that is cellophane wrapped with an envelope included.
- Made in England
Choose from over 40 designs of cards with the word cunt on. We have the world's biggest choice here at CuntGifts.com 
We have super fast delivery and can send your order anywhere on the planet. To learn more about delivery and our 100% money-back guarantee, click the icons below.
DESIGN CODE: PUTY puty 
PUTB putb