---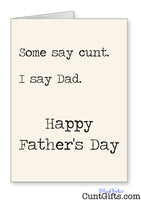 "Some say cunt I say Dad" - Father's Day Card
If your Dad has a wicked sense of humour, they'll love this card on Father's Day. It's a sneaky way you can call him a cunt without actually saying it! 
Save the sentimental cards for Mother's Day and get a card that will get an actually laugh this year, your Dad will never forget it! The full design reads: "Some say cunt I say Dad - Happy Father's Day" 
Blank inside
350gsm A6 card that is cellophane wrapped with an envelope included.
Made in the UK
If you are after a card or gift with the word the word cunt for Father's Day this year, we have a massive range of options, check out the full Father's Day collection here.
Check out the full catalogue of our designs below.
We have super fast delivery and can send your order anywhere on the planet. To learn more about delivery and our 100% money-back guarantee, click the icons below.
DESIGN CODE: ISAY isay