---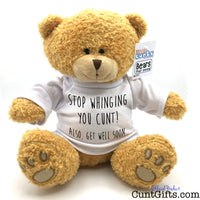 "Stop Whinging You Cunt - Also, Get Well Soon" - Teddy Bear
They say laughter is the best medicine. If that is true this offensive teddy bear is a must for your friend or family member who is poorly.
This cuddly chap has a tee-shirt that says:
"Stop Whinging You Cunt - Also, Get Well Soon"
Maybe it's a work colleague who is away from the office and the rest of the team is taking up the slack for them? They must be a cunt so this bear is spot on! 
It's guaranteed to get a laugh when you give it to them.
A proud member of "The Little Cunts" - The Bears That Swear. Click below to see the whole family.
Total length: 28cm/11 inches (approx)

Machine-embroidered eyes

Soft plush fur

Suitable for age 18+
You can also get a range of more "Stop Whinging You Cunt" gifts to match this teddy bear...
As the world's leading cunt brand, we have dozens of other designs available with cards and gifts for every occasion, Click below to see the designs.
We have super fast delivery and can send your order anywhere on the planet. To learn more about delivery and our 100% money-back guarantee, click the icons below.
DESIGN CODE: WHIN whin