---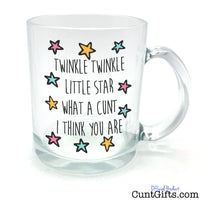 "Twinkle Twinkle Little Star What a Cunt I Think You Are" -
 Half Pint Tankard Glass
If you are looking for a cute gift that also features the word cunt, this "Twinkle Twinkle" drinking glass is perfect!
It holds 312ml, so is perfect to have a nice cold half pint of beer with room for a frothy head on top. 
- This 11oz glass is both dishwasher and microwave safe. 
- Supplied in a box.
- Made in England, UK
Did you know? The Twinkle Twinkle Cunt design is also available on a mug, click here to have a look. For other gifts that are sure to get a big laugh, see our full range below.
We have super fast delivery and can send your order anywhere on the planet. To learn more about delivery and our 100% money-back guarantee, click the icons below.
DESIGN CODE: TWINK twink