---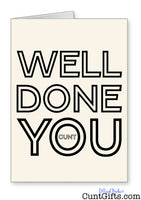 "Well Done You Cunt" - Congratulations Card
Whatever the reason, if you need to commend someone for their achievements, this versatile congratulations card will fit the bill.
This card is guaranteed to get both a double-take and a laugh when they notice the tiny little "cunt" printed at the base of the card.
- Blank inside
- 350gsm A6 card that is cellophane wrapped with an envelope included.
- Made in England
As the number one retailer of cunt themed cards and gifts on Earth, we have a design for every occasion!
To check out the full range, simply click below.
We have super fast delivery and can send your order anywhere on the planet. To learn more about delivery and our 100% money-back guarantee, click the icons below.
DESIGN CODE: WLBL wlbl  
 WELB welb 
 WELP welp