---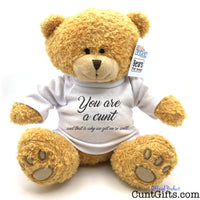 "Why we get on you cunt" - Teddy Bear
The design on this teddy bears t-shirt reads: 
"You are a cunt...  and that is why we get on so well"
The perfect gift to give your mate, and make them laugh every time they look at it!
There are loads more designs in our bears in the range, you can check out the rest of his family on the link below...
Total length: 28cm/11 inches (approx)

Machine-embroidered eyes

Soft plush fur

Suitable for age 18+
We are the biggest retailer of cunt gifts on planet earth, we have a design for every occasion, Click below to see the designs.
We have super fast delivery and can send your order anywhere on the planet. To learn more about delivery and our 100% money-back guarantee, click the icons below.
DESIGN CODE: GTON gton