---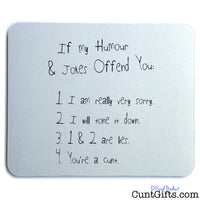 Mouse mat with "If My Humour Offends You" design.
This mouse mat reads:
"If my humour offends you: 1. I am really very sorry 2. I will tone it down 3. 1 & 2 are lies 4. You're a cunt" 
The perfect gift for your mate who loves to drop the c-bomb!
- Mouse pad measures 22cm x 18cm.
- Card and cellophane gift packaging.
-Professionally produced at our Sussex workshop in England, UK.
The "If My Humour Offends You" design is also available on other gifts to match this mouse mat. Click the links below, or click here to see the full collection.
If you need a gift with the word cunt on it, choose from the world's widest range of designs! See all the other gifts from our cunt emporium by clicking below to see the full catalogue.
We have super fast delivery and can send your order anywhere on the planet. To learn more about delivery and our 100% money-back guarantee, click the icons below.
DESIGN CODE: HUMR humr